Being a Purina Certified Expert Dealer means that we offer a complete line of quality Purina feed products and have knowledgeable associates who care first about our customers, and their animals. Training is a key element for our Certified Expert staff and you can depend on us for Certified Expert advice!
Bulletin Board
Check out our great selection of Dog products, perfect for your hunting companion. From Orange reflective collars to high protein food!
Expert Articles & Advice
December 1, 2014
Winter nutrition is very important for deer and the individuals that hunt them. Even though hunting season is typically during the colder months, during these months deer are in an energy deficit.
December 1, 2014
Your pooch may be an adorable angel in every other way, but if proper behavior on-leash is not part of his repertoire, pleasant walks in the park and other outings may be out of the question. Walking on-leash is an integral part of your dog's training.
Special Offers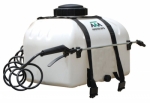 Master Manufacturing 9 Gallon Spot Sprayer.
Valid 12/01 - 12/31/2014
Purina Equine Videos
New Purina® SuperSport™ Supplement - Proven, Faster Recovery
Quick Contact & Hours
Manager: Justin Young
31 Pioneer Road South

Hattiesburg

,

MS

39402
Phone:
601-268-9400
Fax:
601-268-6009
Email:
hubcityfeed1@megagate.com
Give us a call for updated hours. 601-268-9400